Stewart CineCurve













When watching thesuper-wide Cinemascope format on a screen designed for HDTV, 33% of the projectors pixels are used to create unsightly black bars, reducing image resolution.
The CineCurve, an elite member of the Stewart Filmscreen's Variable-Masking Line, features a native 2.40:1 image area allowing for full enjoyment when viewing movies in wide-screen formats. Horizontal masking panels glide in from the left and right to provide a perfectly masked image at any aspect ratio from 2.40:1 to 4:3/1.33:1.
A curved, constant height, variable width multi-masking screenwall
Super-wide 2.40:1 image area designed for use with an anamorphic lens
Horizontal masking panels allow for multi-aspect ratio capabilities
Allows light to be reflected back towards the audience and away from the walls, increasing brightness and improving uniformity
The curvature of the screen allows viewers to experience an increased sense of immersion
Optional Microperf X2 is available when acoustic transparency is required
The multi-award winning CineCurve is the first product to be equipped with Stewart's newly developed Silent Masking motor for an ultra-quiet and cinema-like experience. The Silent Masking motor will comes with all CineCurve screens, starting in 2008, at no additional cost.
Optimize your CineCurve with any of Stewart's award-winning front projection materials. Microperf X² and Cinemaperf are available when acoustic transparency is required.
Stewart's exclusive VeLux™ black-velvet appliqué gives the CineCurve a luxurious look and feel. This specialized frame finish absorbs possible over-scan while boosting perceived contrast providing you with the best image quality on the market.
Stewart Filmscreen is synonymous for superior quality, custom craftsmanship, and excellent customer service. Since every Stewart product is handcrafted, custom sizes & configurations are easily accommodated. Contact your local Stewart Representative today and let us build one for you!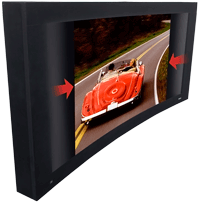 Frame Details:

Curved Aluminum Frame Extrusion

Included

VeLux™ Appliqué Finish

Included

Specialized Fastening System

Included

Electronically Controlled Masking Panels

Included

Mounting:

Aperture Mount

Included

Wall Mount

Optional

Control:

B.R.I.C. System (keypad and IR remote)

Included

Motor:

110 Volt

Included

Maximum Visual Impact
CineCurve 스크린은 스튜어트 마스킹 스크린 중 하나로 , 2.35: 1 포멧의 수퍼와이드 스크린으로 드라마틱한 영화를 감상할 수 있는 씨네마 전용 스크린입니다 . Cine Curve 스크린은 야간의 커브드 스크린으로 넓은 와이드 이미지와 이상적인 시야각으로 평면보다 훨씬 생동감있는 영상을 표출합니다 .
많은 영화가 2.35:1 포멧으로 제작되고 있지만 프로젝션 시스템으로 와이드 스크린에 투사될 경우 영상의 상단과 하단은 블랙 띠로 처리하게 됩니다 . 현재 , 프로젝터와 anamorphie( 원주형 ) 렌즈 기술은 2.35:1 포멧의 영상도 높은 밝기와 높은 명함비의 영상으로 표출할 수 있습니다 . 아나몰픽 렌즈를 사용하는 프로젝터를 사용하면 이미지 사이즈를 줄이다든가 상하단의 블랙띠를 방치하지 않고서도 놀라울 만큼 뛰어난 수퍼 와이드 이미지를 감상할 수 있습니다 .

또한 CineCurve 스크린은 좌우 전동 마스킹 시스템을 갖추고 있어 다른 포멧의 이미지도 표출할 수 있습니다 . 스크린의 높이는 일정하게 유지하는 반면 , 전동으로 조절되는 사이드 마스킹을 이용하여 CinemaScope 그리고 HDTV 포멧의 이미지도 자연스럽게 감상하실 수 있습니다 .
스크린의 높이는 일정함
가능 스크린 포멧 : 2.35:1 과 16:9
사운드 스크린과 마스킹 ? MicroPerf 가능
스크린이 커브임으로 크로스된 빛의 반사와 투사된 빛이 시청자에게 투과되는 것을 차단함
이미지 균일성이 뛰어남



CineCurve screen (곡면 고정 양면마스킹)

True image size - 2.40 : 1
| | | | | |
| --- | --- | --- | --- | --- |
| 모델명 | 규격(인치) | 이미지사이즈 (가로) | 이미지사이즈 (세로) | 중량 |
| CC122S | 122 | 2870 | 1194 | 154 |
| CC133S | 133 | 3112 | 1295 | 168 |
| CC144S | 144 | 3416 | 1422 | 181 |

Flexible Front Projection Screen Materials
Stewart screens will work beautifully with a wide range of projectors. Image size and projector light output can be matched to the appropriate Stewart fabric, yielding predictable professional results. For the best image, the picture should not be viewed at angles greater than 45 percent off-axis or outside a 90-degree seating cone. The best projection results are obtained in darkened rooms, enhancing black/white contrast and picture resolution. However, there are installations such as residential media rooms, corporate boardrooms and large meeting rooms where a certain amount of ambient light will always be present. In those cases, gray screen technology is most likely the best option. Another solution is to prevent extraneous lighting from being directed at the screen.
Higher lumen output projectors match well with lower gain screen surfaces. Hot spot artifacts are minimized; resolution and viewing angles are increased. Projectors with lower lumen output can be augmented with a quality Stewart high gain screen. Brightness is retrieved and the image emerges even when ambient light control is not optimum. Contact your projector manufacturer for required information pertaining to image size, focal length of lens and ANSI lumen output.
Stewart Filmscreen's front projection surfaces are available in seamless in sizes up to 40 feet by 90 feet. All are available in either fixed frame or retractable models. In addition to the following standard front and rear projection surfaces, Stewart can also custom run specific gains for your individual application (minimum order size 12 feet by 16 feet).
Flexible front projection materials are available with optional Microperf X2 or Cinemaperf when an acoustically transparent screen is required. Most screen surfaces are also available with an optional opaque backing. Stewart front projection surfaces are washable and flame retardant.
Note: In addition to our standard front projection materials, Stewart can custom run specific gains for your individual application (minimum order size 12 ft by 16 ft).